A
UNIQUE & ORIGINAL
CONCEPT.
AN
ALTERNATIVE
TO THE ACOUSTIC RECORDING OF A
SYMPHONIC ORCHESTRA
.
SYNCHRONISE A VIRTUAL SYMPHONIC ORCHESTRA TO THE EDITING,
IN REAL TIME
.
This is not a 'cheap' alternative for creating a movie trailer, a documentary or an advert etc...
Its features make it a powerful and extensive tool, rigorously designed with musicianship, faithful sound reproduction and instrumental expressivity in mind.
It is the result of several years of hard work, continuously updated:
- in step with with technical innovation (sound treatment, pioneering software and plugins) incorporated into the system's core according to their added value.
- in step with new instrument soundbanks groundbreaking in terms of playing technique or original colour.
TOTAL VIRTUAL ORCHESTRA
STANDS ALONE IN ITS ABILITY TO DELIVER EVERYTHING
NEEDED FOR REAL TIME CONCERT-HALL
RECORDING OF A SYMPHONIC ORCHESTRA:
THE BEST EXPRESSIONS
FROM THE BEST VIRTUAL INSTRUMENTS
TOTAL VIRTUAL ORCHESTRA
features the full range of symphonic orchestral instruments, from the most essential string, wind, brass or percussion sections, to those secondary instruments, essential to the richness of the chord. Each instrument can be separately manipulated with its own expression. In this regard, we have selected the best articulations of the best instrumental banks, all integrated in this virtual system. With this selection, as much priority is given to the richness of the instruments as is to the lifelike sound and originality of play.
Together, these soundbanks cover all conventional techniques: thanks to their differences, they allow the expression of complementary colours, right up to the most striking effects when we superimpose them.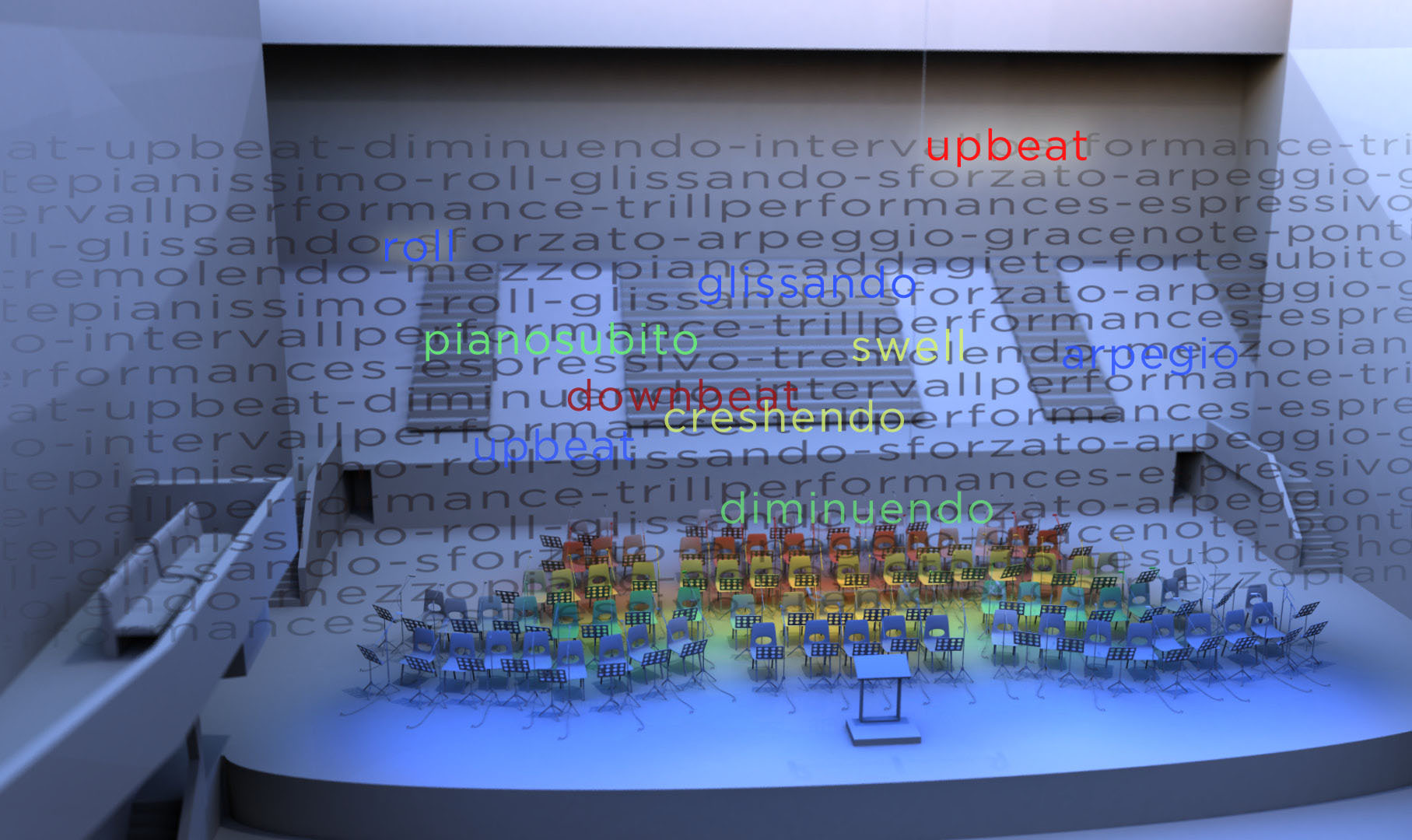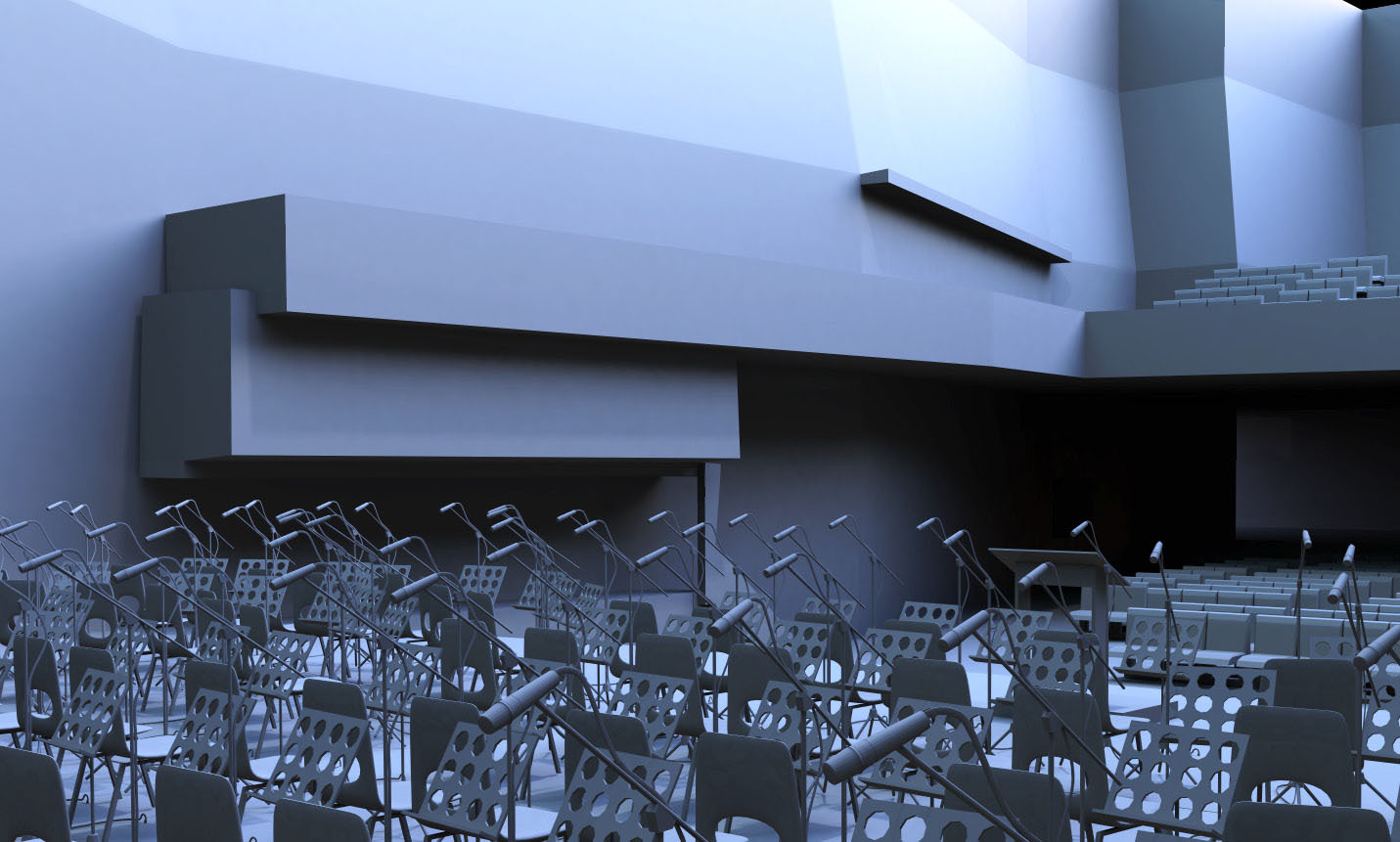 SOUNDSTAGE SIMULATION
TOTAL VIRTUAL ORCHESTRA
uses virtual soundstage simulation, in which the instruments are staged according to convention (film placement/centered bass).
A complex package of features delivers a flawless fully coherent space – including calculation of dimensions, sound reverberation of the front wall, simulation of various microphone setups (individual, Decca Tree and back of the room), realistic instrument interactions and distance calculation. All this without the issues of resonance or unwanted feedback inherent to traditional acoustic recordings.
Naturally, the hall is entirely automated, acoustically and spatially, easily adjustable according to the context.
PERFECT PRESENCE OF EACH INSTRUMENT
The problem of recording an orchestra in such a space is that certain instruments tend to disappear during mixing, especially when the music is combined with the rest of the soundtrack. The use of a conventional dynamic compression system can bring the instruments to the forefront but only to the detriment of spatialization.
TOTAL VIRTUAL ORCHESTRA
works with a unique dynamic system, composed of specific audio treatments applied to the whole, to individual groups and to the spatialization system: this process allows all the instruments to be brought into a 'zone of intelligibility', without any loss of spatial perception.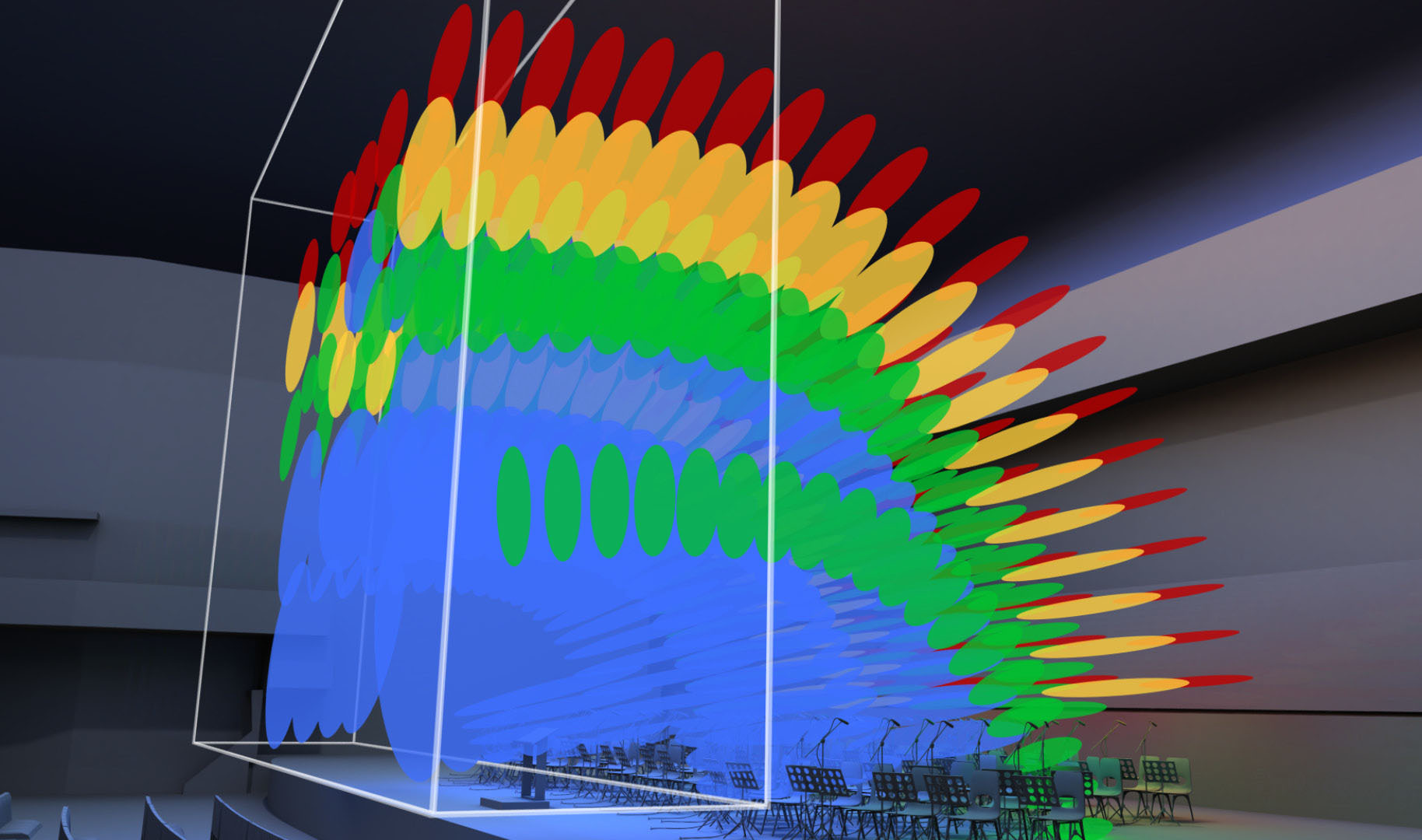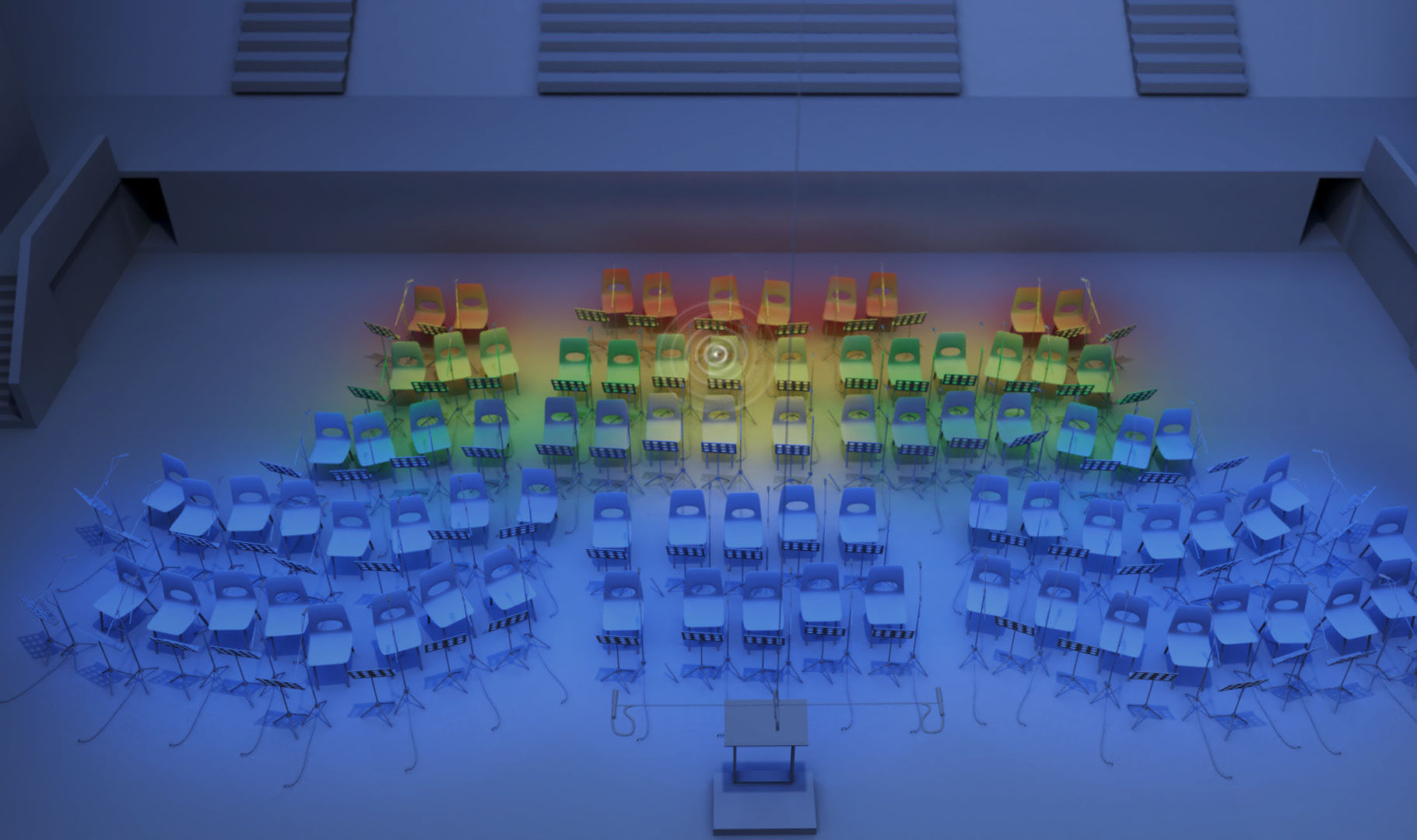 AN ORCHESTRA IN REAL TIME
Each instrument is in its rightful place at the heart of the orchestra, at a volume suited to its nature and the development of its sound. The dynamic processes are fully operational as well as the specialization systems: and so the composition begins!
During the arrangement process, the automation gives the necessary expression instructions to each instrument. Composition takes form thanks to the real expression of each instrument in acoustic conditions similar to reality.

There are no demo or mixing phases: it's already a formal definitive result, immediate and yet constantly adjustable according to the evolution of the work.
EDITING COMPATIBILITY
More than a simple synchronization of music and image,


TOTAL VIRTUAL ORCHESTRA

offers permanent synchronization of the symphonic orchestra with the image.
Thus, each changes of the editing can be adapted in real time, without formal changes. The same holds for each modification of arrangement, tempo, ambience, room dimension, or even of performers: the same music score can control an instrument from another bank, a collection of English strings for example, very fine and delicate, in place of an American one, more Hollywoodesque in its expression. The different processes of audio treatment are conceived to adapt the musical score directly to the audio-visual media, cinema, television or web, without further intervention, the system being set-up and optimized beforehand.
The soundtrack can take shape progressively in line with with its overall emotional capacity. The director, can evaluate from the beginning the rightfulness of the musical proposition and can rest happy in the knowledge that it will stay in this form, without fear of losing musical quality during subsequent recordings. Alternatively, if the director is not happy with a piece, no hesitation: don't expect to find later what isn't there already...
Comparing the two systems
| Acoustic Orchestra | | TOTAL VIRTUAL ORCHESTRA |
| --- | --- | --- |
Yes, if great musicians with great instruments are used
INSTRUMENTAL QUALITY
Yes, thanks to major innovations regarding virtual soundbanks
Yes, if time is dedicated to
rehearsal (around an hour for each 5 minutes of music, according to difficulty)
PLAY QUALITY
Yes. No time constraints for perfect programming/instrumental direction
When it has... more or less possible to eliminate defects of the room's materials and dimensions
SOUNDSTAGE QUALITY
Yes. Controlled at every level/adapted to the media-film
Only after the recording, during the mix or at the end of the project
CHANGE OF MUSICAL COLOUR
Yes, thanks to the different soundbanks and the interactivity of the system
No
DEFINITIVE FORM
Immediate
Impossible after recording without an increased budget
POSSIBILITY OF REMIXING, DEVELOPING THE MUSIC LATER
Yes, reuse of instrumental command lines, eventual adaptation to new technologies
Limited, according to time and budget
MODIFICATION POSSIBILITIES
Guaranteed, for any sound design step (composition, tempo, arrangement, mix, instruments etc.)
Necessary, limited by budget, definitive once finished
MIX
No. Pre-configured (core idea)
Rapid adaptation to the project
Limited according to budget and talent of performers
MUSICAL RESEARCH, FRESH TAKES
Yes, system also conceived with this in mind
Possible/
recording to click track
ADAPTATION TO EDITING
Frame accuracy/
permanently adaptable to new editing
3000 to 10,000 € for a 3 hour session, according to the country of recording and quality of musicianship (around 4-7minutes of music recorded)
COST
All inclusive, relative to continuous improvement in the system
Extremely small in comparison
It's the acoustic orchestra!..

When the soundtrack has been perfectly managed by numerous collaborators prior to entry in the studio (composer/arranger/transcribers/orchestral management/hall management/sound engineer etc.) when rehearsal, recording and mixing time are taken into account, or an organization and a very large budget.
FINALLY, WHICH IS THE BEST SYSTEM?...
It's TOTAL VIRTUAL ORCHESTRA!...

When you want results that are unique, precise, powerful, permanently modifiable and as musical as possible, for a reasonable budget and adapted to modern productions.